Nowadays, there is a trend of "bringing indoors outside" by upgrading the alfresco areas of your home. Outdoor roller blinds are the perfect addition to transform any garden, pergola or balcony with style.
Modern outdoor blinds offer different advantages that, when they are integrated properly, can add more style to the general design of the house and bring a better lifestyle. Let's take a look at their benefits:
1. Protection from the outside elements:
For example, using quality mesh blinds on balconies or verandahs can shield your areas from external elements such as dust, rain, wind and sunlight. At the same time, outdoor shade blinds protect your furniture, carpets and floors from fading or deteriorating from the harmful sun rays and make them last longer. 
Moreover, Australia is a country with a wide range of insects and bug species that sometimes can be annoying to have around when you are planning to do activities outdoors. Installing outdoor blinds Cairns, can help create a safer environment as they act as a barrier to keep them out of your entertainment area.
2. Create new rooms in your home:
If you live in a small house with a large backyard, installing outdoor blinds Sydney is a great idea for space optimization. The options are endless; for example, you can install outdoor blinds for the pergola or patio to create a new entertainment area that you can enjoy the whole year-round.
3. Versatile outdoor blinds:
No matter the space, size and style of your home, at DHE Group outdoor blinds, we can offer a blind that suits your specific needs. Our outdoor blinds are an important investment for your home that adds a touch of style, and class and most importantly, adds value to your home.
Our friendly consultants will bring the product range and the inspiration to the comfort of your home. You can touch and feel the fabrics, see the different control options and customize your colour palette to suit your exterior design.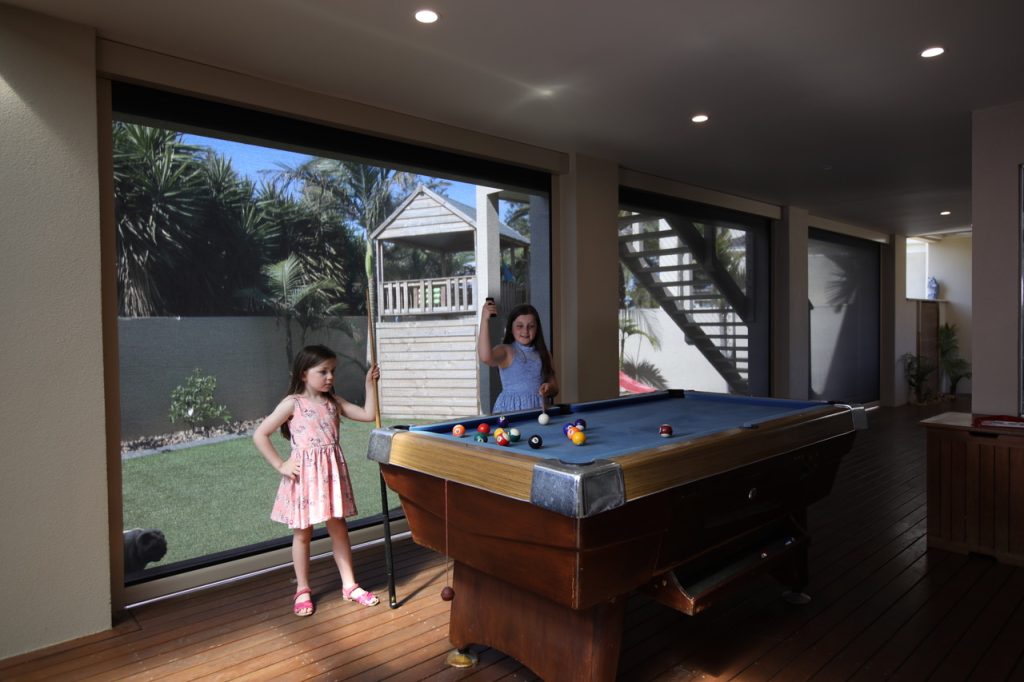 4. Easy to operate outdoor blinds:
You can find manual and motorised outdoor blinds out in the market that are very easy to operate. At Dynamic Home Enhancements Adelaide, we offer blinds with no pulleys, chains or straps. You can choose from our battery-operated roller blinds, push button or remote control options. We got you covered!
5. Add extra value to your home with outdoor roller blinds:
If you are interested in selling your property in the future, having different home improvements and renovations can play an important role in the final price of the property and even more when those changes add extra style. 
Outdoor blinds are one of those add-ons that can transform your outdoor space while giving an extra touch of style. Our outdoor blinds Newcastle are available in different colours and materials to suit the current decor of your home.
Why Dynamic Outdoor Blinds?
At DHE Group, we have been installing veranda and patio blinds in homes all over Australia and we only use the best products from trusted suppliers.
Our high-quality outdoor blinds are Australian-made using 100% Australian outdoor blind parts, so you know when you use the DHE Group products you are getting superior quality, durable products that are built to withstand the harsh Australian climate.
It is very good to know you are in safe hands with our company when it comes to your outdoor blinds and our other products, roller shutters and plantation shutters, which are very popular throughout Australia. You can click here to see our reviews for our company.
Contact us today and book your FREE measurement and quote with us!