Dynamic home enhancements
Australian roller shutter manufacturer
As one of the largest independent roller shutter manufacturers in Australia, the DHE Group offers you the best range and the best advice on quality custom made roller shutters.  We are proud to be Australian, and all of our shutters are 100% Australian made and manufactured on site, which allows us to guarantee only the highest quality products will be fitted to your home. Click here to see how we make your roller shutters.  As a large manufacturer, we have excellent buying power and can offer you highly competitive, factory direct prices.
Our roller shutters look sleek and stylish and are easy to operate with a super smooth gliding action. They come with the choice of manual or remote control for quick and easy operation.  Roller shutters add style and value to your home while offering a host of significant benefits over more traditional window treatments like blinds.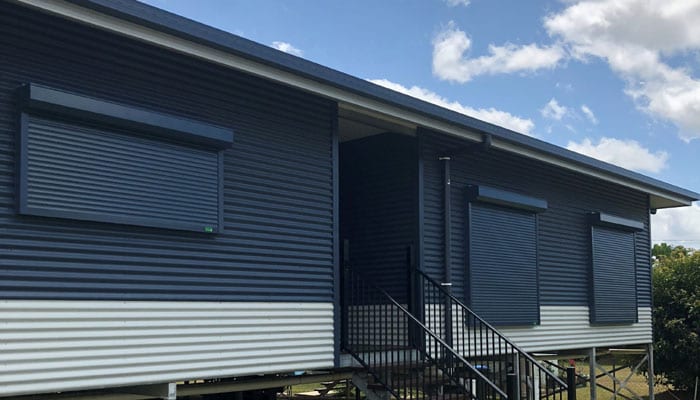 Improved Security with Roller Shutters
We all need to feel secure in our homes and roller shutters offer a cost-effective way of bolstering your security for added peace of mind.  Not only are they a highly visible physical deterrent to burglars, but they help you feel safe and secure when you are at home.  Roller shutters are especially good if you regularly travel overseas and give you added security knowing that your house is fully locked down and secure.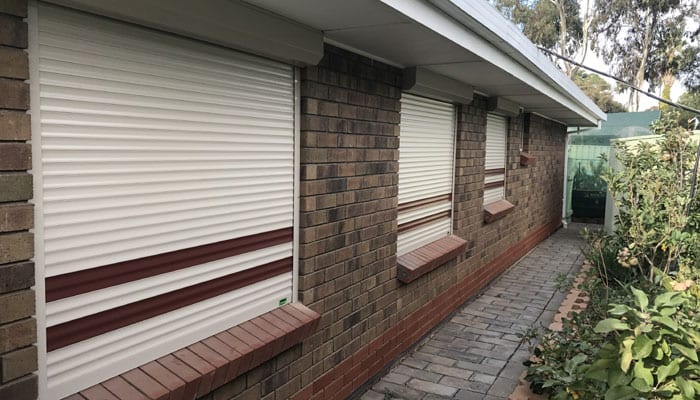 Thermally efficient roller shutters to reduce your power bills
We all know the extremes of weather that can be found throughout Australia.  Our roller shutters provide thermal insulation, keeping the cold driving winds and drafts out during winter and keeping your heat in.   During the summer your roller shutters will prevent the heat building up through the windows, helping to keep your home cool and comfortable. Research has shown that using roller shutters can reduce your heating and cooling bills by up to 30% and that's always a welcome saving.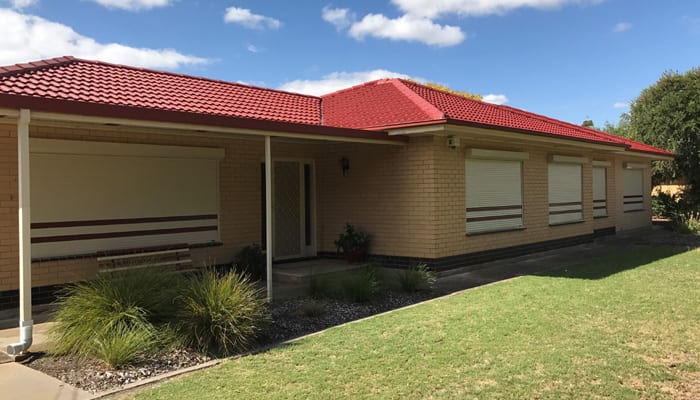 Roller Shutters offer superior protection from the elements
Our fantastic roller shutters offer great protection for your home in the extremes of weather.  Not only do they protect your windows and window frames from hail and potentially damaging storms, but they can prevent windows and doors from rattling and help eliminate draughts.   In the extremes of summer, they offer protection from the intense UV light that can fade your carpets and furniture while dramatically reducing heat build-up.
If you live in a bushfire area, our specially designed bushfire rated shutters have been approved by the CSIRO and granted BAL (Bushfire Attack Level) of 40, meaning that they offer protection from radiant heat in a bushfire but also create a physical barrier from hot drifting embers and ash.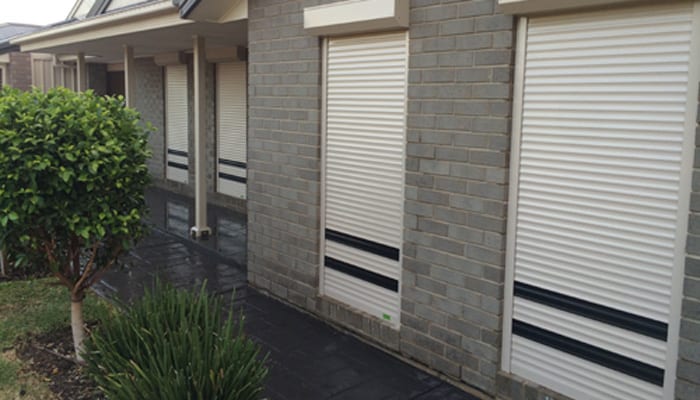 Roller Shutters for Noise Reduction
If you live on a busy road, near an airport or just like to sleep during the day, roller shutters have been found to dramatically reduce noise by up to 50%, meaning that there's no need to turn the tv or radio up and no need to shout to make yourself heard. What's more, if you are a shift worker and need to sleep during the day, roller shutters can help to darken your rooms as well as block the noise to give you the best chance of a great sleep. Our roller shutters will never add to the noise either, even during high winds your roller shutters are held steady in a protective channel which minimises movement and eliminates any rattling noises.
Dynamic Home Enhancements have all your roller shutter needs covered!
Our huge range of custom-made roller shutters includes specialised bushfire rated roller shutters and storm and cyclone roller shutters.  We offer a superb range of colours to suit your home or business, and to make things super easy and convenient we bring the range to you. We have plenty of samples to touch and feel. There are lots of photographs for inspiration as well as all the technical details on your chosen roller shutters.
Our roller shutters come with a complete 5-year warranty covering parts, labour and installation.  To make the whole process easier all our products are available with 50 months, no interest, no deposit finance (subject to approval).  Our trusted team of professionals are always on hand for your convenience and our phone lines are open seven days a week.