Outdoor roller shutters offer a variety of solutions to home and business owners in Australia. From weather protection to added privacy, keep reading to learn how this product can benefit you:
Escaping the Australian heat with roller shutters
With the harsh weather in Australia, it is vitally important to have an escape from the heat, especially throughout summer. For example, in northern Europe is common for homes to be very hot during the summer because houses are so well insulated. The focus is on heating the home and getting through the cold winter, chilly spring and autumn seasons.
However, the problem in Australia is very much the opposite. There are far warmer months and specifically, the sunlight coming through the window can cause the temperature in your home to heat up dramatically.
Actually, glass can increase your home temperature, which means more costs in your electricity bills.
This is how it works: just like sitting in a car with no air conditioning, the glass turns the UV light into infrared light, which increases the temperature inside through radiation. Unless you can decrease the temperature with the a/c or adequate ventilation, the temperature will easily increase to uncomfortable levels.
The associated costs with relying on air conditioning to cool the car down mean more consumption of fuel in a vehicle, or likewise in your house, a significant cost increase in energy bills will coincide.
In Australia, during the summer, it could cost you thousands of dollars per month if you are using the air conditioning throughout the season. On the other hand, if the air conditioning were to fail, or if there is a power outage, you could have real issues with rising temperatures.
Having a haven from the heat is vitally important in any scenario. It makes sense to ensure that you are covered in all situations all year round with a suitable solution for the changing seasons, temperature and weather.
How to escape the heat during the summer with Roller Shutters
During the summer months, roller shutters offer a solution that does not rely on mains power and provides a simple yet important solution to homes in Australia.
Once installed, a roller shutter has little to no energy cost to function. They work by covering the windows externally with a covering that reflects the sunlight and stops UV light from getting into the window, stopping the heat from the source.
Why do Roller Shutters block the heat?
Roller Shutters are made with Polyurethane foam which is the highest insulating foam on the market, which allows you to save up to 40% on your energy bill and stops up to 90% of the thermal transfer of energy through the window.
Most importantly, it reduces the temperature in the room and makes the whole house temperature easier to control, whilst relying much less on air conditioning and saving massively on energy bills.
Roller Shutters can keep your home safe in the worst of storms Australia has to offer
Since 2010 there have been over 298 severe storms in South Australia, 539 in Victoria, 1496 in New South Wales, 983 in Queensland, 11460 in Western Australia, 96 in Tasmania and 206 in Northern Territory.
If there is a storm approaching, it is good to have roller shutters as they enable you to reduce the chances of high winds causing damage to your windows.
Moreover, it is important to ensure that your home and loved ones are safe from the strongest storms. Sometimes, having to claim insurance is not a favourable option. The truth is some insurance companies favour having security shutters, which in turn will lower premiums. (It is something you may have to ask specifically about your insurance company.)
Added benefits of security and noise reduction
Roller shutters add the benefits of noise reduction, which is highly beneficial if you live in an area with lots of traffic driving past daily. The roller shutters offer insulated solutions to reduce the impact of cars and other loud vehicles such as trains and trucks.
If you are unfortunate enough to have car headlights or streetlights coming through your window at night and you can't sleep, then having roller shutters can completely stop the impact of the bright light and help with your rest.
Overall, roller shutters are perhaps the most diverse solution to many of the problems of living in Australia and hot countries in general. Their popularity has grown significantly in the last few decades, where a competitive market for roller shutters is emerging.
Dynamic Home Enhancements for Roller Shutters in Australia.
If you live in Australia, just make sure to check out Dynamic Home Enhancements for roller shutters. Based in Adelaide, we serve the whole of Australia with a focus on South Australia, Cairns, Newcastle & Central Coast areas.
Buying direct from DHE Group is one of the most affordable ways as we manufacture the roller shutters in Adelaide and provide installation services too.
Get in touch today and Leave a quick message for us!
We will be happy to talk about roller shutters with you and help with everything from the measure, quotation, manufacture and installation.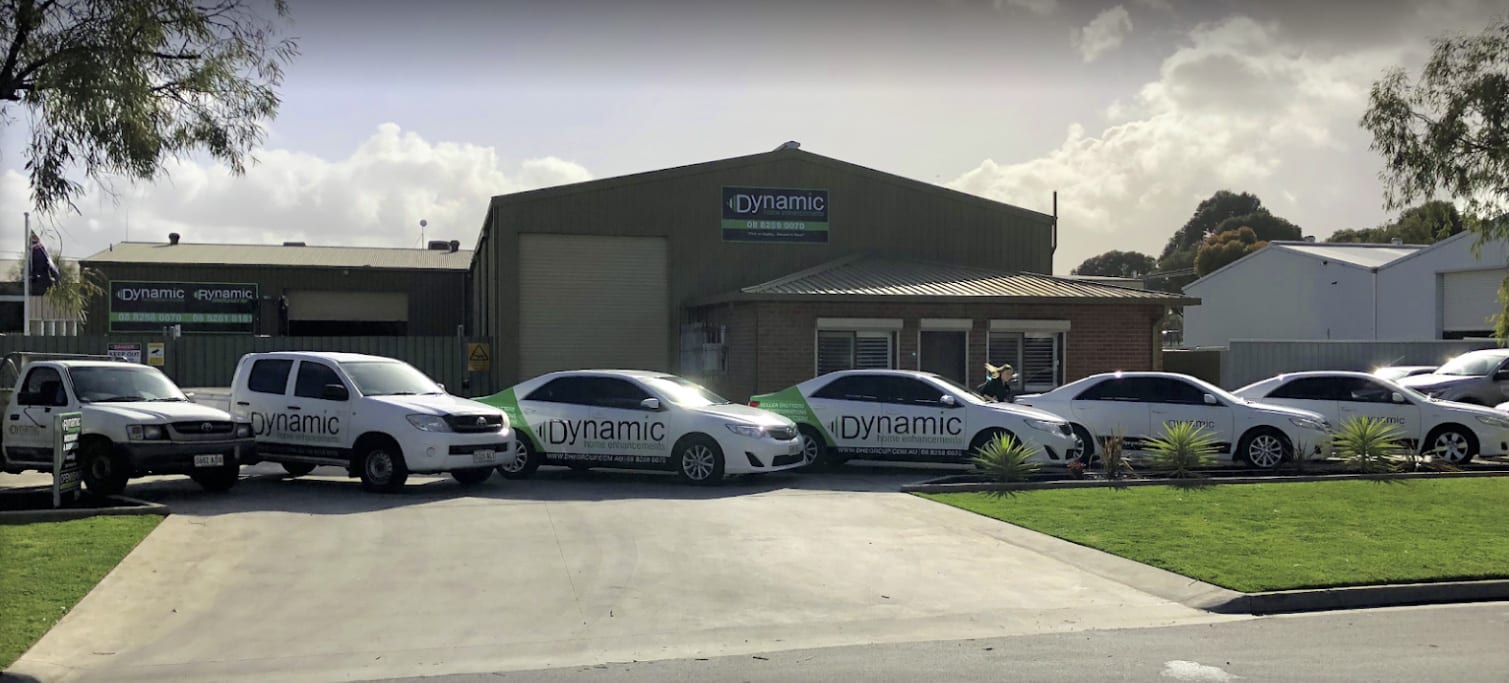 Our headquarters for manufacture of roller shutters in Adelaide

Send us a quick message